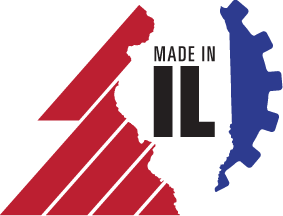 The company was founded in 1957 as Genoa Offset Service, Inc., by Edward Paulson and Boyd Loptien who each kicked in $375 for the down payment on a new 1250 Multilith printing press. Soon after that, with the assistance of a bank loan, a new IBM electric typewriter was purchased to do typesetting.
During the next decade the company slowly grew and added a few employees. A basic business principle always observed was to pay bills promptly. This helped the fledgling company develop solid relationships with suppliers who in turn were willing to help in every way possible.
In 1971 Ed became sole stock holder of the company. His wife, Alice, was just finishing her bachelor's degree from Northern Illinois University when she came into the company full time. They worked in every phase of the business. Alice and Ed called on customers, kept the books, wrote orders and checks, set type, designed letterheads, brochures, catalogs and forms, pasted up jobs, proofread copy, delivered orders, collected delinquent accounts and anything else that needed doing.
The company steadily grew and progressed. In the mean time they learned about balance sheets, P & L statements, operating expense spread sheets, depreciation and bank borrowing. After the 10th of each month a detailed analysis of the previous month's business was studied carefully, looking for variations that could lead to trouble and devising strategies for correction. With the resulting disciplines, the business continued its steady and solid growth.
In 1969, the first roll fed printing press was purchased and by 1978 business forms had become a major portion of sales. To reflect the movement toward this specialized area of printing, the company name was changed to Genoa Business Forms, Inc.
The Genoa buildings were getting crowded leaving no room for expansion. Alice went to Sycamore Mayor "Red" Johnson, to see if their city had a suitable site. He said, "Have I got the buildings for you!" Thirty-eight thousand square feet of industrial space on three acres was available at a very attractive price.
An architect was hired in 1983 to draw the remodeling plans. Everything went together with a minimum of difficulties. Since the three adjoining buildings had been previously used as warehouses, they lent themselves ideally to remodeling for our specific needs.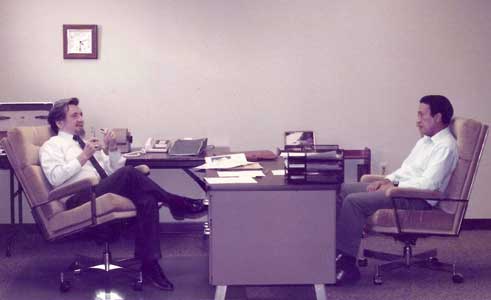 In 1984, we moved into our new 40,000 square feet facility which is our current location in Sycamore. Even though we had left Genoa, the decision was made not to change the company name, so we are still Genoa Business Forms, Inc., known to most of our customers and friends simply as "Genoa" (pronounced jeh-NO-ah, not JEH-no-ah like our Italian namesake).
Since 1984, Genoa Business Forms, Inc. has enjoyed steady growth and expansion. We now offer many sizes and configurations of custom unit set and continuous forms. In addition, we have recently introduced a complete line of stock voucher checks and envelopes. We can accept digital files designed in most platforms. We have added a complete line of document security features, and we still continue to offer our trademark fast and reliable service, with rush deliveries available.
Currently the company has highly skilled employees handling sales and accounting, operating roll and sheet fed printing presses and collators plus encoding and other ancillary equipment for composition and finishing the printed jobs. Now under the leadership of Philip Paulson, Genoa Business Forms, Inc. remains a family owned business providing quality printed products.
© 1998-2020 Genoa Business Forms, Inc. All rights reserved.